Most of what we eat in the produce section are recent hybrids or
cultivars
that bear little resemblance to their wild cousins -- here are some wild strawberries for example...
or a wild banana (complete with the seeds, lacking in the sterile cultivars we eat today)...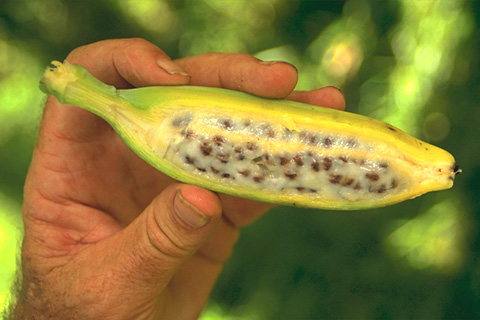 I do draw a distinction between the selective fertilisation or other cultivation methods used to develop these cultivars, and the genetic manipulation discussed in the OP's article but my main point is that we need to keep all this in mind when faced with people who encourage
8-10 servings of fruit and veg everyday
based on the premise that these are
the best source of many nutrients
and that
man as a species has always eaten fruit and veg
.
As Kurt Harris MD says at his
Archevore Blog...
Most modern fruit is just a candy bar from a tree. Go easy on bags of sugar like apples. Stick with berries and avoid watermelon which is pure fructose. Eat in moderation. If you are not trying to lose fat, a few pieces of fruit a day are fine.