Discussion Starter
·
#1
·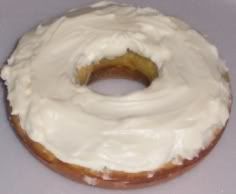 These are not mini donuts. This recipe requires a donut baking pan.
Donuts (makes 10)
2 tablespoons pancake syrup
2 teaspoons vegetable glycerine
1 teaspoon vanilla
3 eggs
3/4 cup almond flour
1/4 cup + 2 tablespoons pork rind flour
8 pkts. Splenda (or sweetener of your choice)
3/4 teaspoon baking soda
1/4 teaspoon salt
4 tablespoons butter, melted
Preheat oven to 350 degrees. Oil 10 wells of a donut pan.
In a small bowl, using a fork, beat together the syrup, glycerine, vanilla and eggs. In another small bowl stir together the dry ingredients, then stir in the butter. Stir the flour into the egg mixture until smooth.
Spoon mixture into the wells. Bake 8 minutes. Remove from pan immediately. Let cool before frosting. Store in refrigerator.
Frosting:
4 oz. cream cheese, room temp.
4 tablespoons butter, room temp.
1/2 teaspoon vanilla
4 pkts. sweetener (or to taste)
3 tablespoons heavy cream
With a mixer, beat all but the cream. Add the cream and beat until well blended.